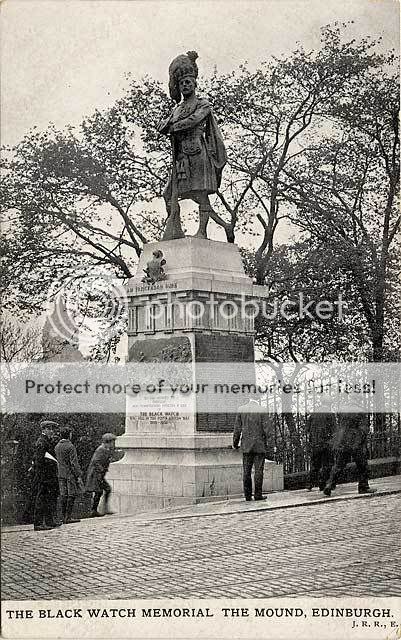 THE EDINBURGH BLACK WATCH MEMORIAL.

NO UNVEILING CEREMONY.
We are asked to state by Colonel Mowbray Berkeley, secretary to the Memorial Committee, that "owing to the lamented death of King Edward VII, there will be no unveiling ceremony in connection with the memorial erected on the Mound, Edinburgh, to the officers, non-commissioned officers, and men of the Black watch who fell in the South African War, 1899-1902."
Considerable delay has taken place in carrying out this work, as it was only after much thought and study that the present site was decided upon. The monument consists of a red granite pedestal, 17 feet high, of Renaissance design, with broad simple detail, on which stands a colossal figure of a Black Watch Highlander in full dress uniform, 11 feet 4 inches high. On the front of the pedestal facing west there is a bronze plaque showing in high relief a battle scene from South Africa – a charge of khaki-clad Highlanders, a subject full of life and movement, purposely modelled to hand down to the future the uniform and accoutrements worn in the Boer War. This panel will no doubt prove of considerable interest to the public.
On the north and south sides of the pedestal are bronze panels bearing all the names of those connected with the regiment who died in South Africa. The panel to the south has the names of those who were killed or died of wounds received in action, beginning with that of General Wauchope; while the panel to the north tells the names of the officers and men who died of disease during the war. In all 200 or more names are chronicled.
Above the figure panel the badge of the regiment is shown on a bronze cartouche decorated with laurel leaves and the Gaelic inscription in raised bronze letters,
AM FREICEADAN DUBH,
while underneath the panel the dedication inscription, also in bronze lettering, reads as follows:-
To the Memory of Officers, Non-commissioned Officers, and Men of The Black Watch Who fell in the South African War, 1899-1902.
The figure of the Highlander surmounting the monument is a piece of strong and picturesque modelling. He stands firmly on his left foot, and with his right slightly bent, he is resting both arms on his rifle in a characteristic attitude, which will tell well when viewed from the different points from which the figure can be seen. The memorial, which is the work of Mr Birnie Rhind, R.S.A., will be in the keeping of the Magistrates and Town Council of the city.
The Scotsman
, Wednesday, 25 May 1910, 8.